Ready To Roll Fondant Icing Cake Coverings
Fondant Icing also known as just fondant or sugarpaste is a sweet paste made from sugar that can be rolled out and used to cover cakes.
Fondant icing is the prefered covering for lots of professional decorators as the paste creates a seal meaning your cake will stay fresher for longer. The smooth surface also allows for more extensive and complex decorating.
There is no easier and quicker way to cover your baked sponge or cake than ready to roll fondant icing. It is versatile, easy to use and handle, if you follow a few simple rules and with a little practise you'll soon be covering your cakes with a professional finish. The wide range of colours available today make the job so much easier to create a cake for any theme.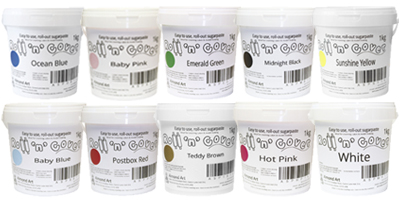 Different brands of sugarpastes suit different users, if you swear by Renshaw we stock their entire range of white, ivory and colours.
With a growing number of our customers looking for an alternative, we have our own branded range of sugarpastes Roll 'n' Cover. Made for us in the UK it has quickly become very popular, colours are available in handy 1kg resealable pots which stack nicely in your cupboard and maintain the freshness of your paste for use another day. We have received some very favourable feedback for our own brand and unsurprisingly we use it exclusively in our own cake decorating studio.
Sugarpaste can be used straight from the pack at room temperature, begin by removing the packaging and keep it away from where you are working. Knead the sugarpaste well until it is crease and stress-free and form into a ball if you are covering a round or similarly shaped cake. Lightly dust the surface with icing sugar and using a nonstick rolling pin, roll out your paste, and make sure to frequently turn it until it is an even thickness of approx 5mm. Lift the paste onto your cake and starting from the top gently smooth the paste down the sides of your cake and remove any air bubbles using a sugarpaste smoother.
More information on covering a cake can be found in the video section.