Polystyrene Cake Dummies / Separators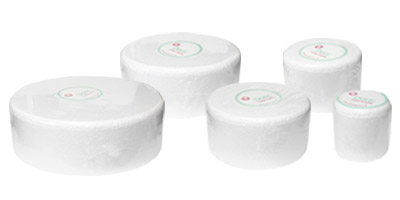 Cake dummies offer the decorator a low cost way of practising cake decorating skills, nothing like a 'dry run' to make sure the real thing goes without a hitch! Shaped like cakes they are the perfect way to try out different techniques and designs. To cover dampen with water to make your sugar paste stick and finish as you would a real cake. Treated carefully dummies are reusable several times.
Available in right angled edged or chamfered/bevelled edge and some interesting shapes, round, square, in various thicknesses, hexagonal, domed or sphere your creativity will impress your family, friends or customers.
If you are preparing cakes for sale then cake dummies offer a low cost option of showing your customers what you can do and will offer the chance to display your skills for several months before your 'decorated cake' will deteriorate!
Great for creating show stopping wedding cakes particularly where there are not many guests to feed. You can use 1 or more appropriately sized dummies mixed with real fruit or sponge cakes. All the impact, fewer cake portions!
Shh! a little tip, if you want to make your own wedding cake you could make it in advance at your leisure using dummy cakes and provide your caterers with slab cakes for cutting and feeding your guests, perfect for a stress free wedding.
One word of advice, do not try to cut or re-shape dummies with a knife, the result will be disastrous!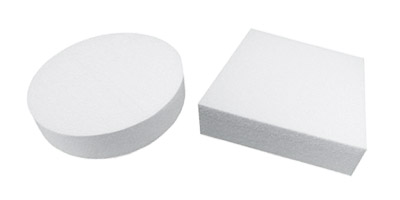 Cake Separators are used to divide one tier from another and to elevate the tier above, they can be disguised by filling the void with sugar or fresh flowers, this gives the impression that the higher tier is 'floating'. Separators are generally 2" high and come in square or round 4" 6" or 8"