Flower and Modelling Paste
You can make your own flower or modelling paste but frankly life's to short! Fortunately we stock a variety of ready made flower pastes and modelling pastes in different colours and pack sizes making your life so much easier. These are popular tried and tested products which will deliver the desired results time after time.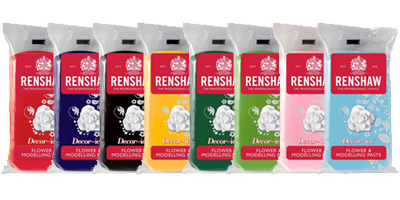 Flower Paste
Flower Paste is ideal for making ultra fine petals and leaves for your sugar flower work. It can be rolled out wafer thin and does not dry out to quickly so enables you to work at your own pace. After several hours it will dry hard maintaining the shape you have made, it is ideal for use with tappits and perfect for making numbers or letters which when dried can be painted with edible glue and dipped in edible glitter before being stuck to your cake.
Modelling Paste
Modelling Paste is a ready made medium for producing sugar models, frills and drapes or for use in bas relief moulds similar to flower paste it is suitable for a wider range of applications making it a good all rounder. It is perfect for modelling figures your paste will hold its shape and dry fairly quickly; it will remain soft enough to eat although most people don't eat it.
Cocoform / Chocolate Paste
Cocoform is a chocolate modelling paste made from high quality Belgian chocolate couverture mixed with glucose. Added to equal amounts of sugarpaste it is ideal for a high quality cake covering and perfect for a Chocoholics cake.