Cupcake and Muffin boxes to enhance that special treat!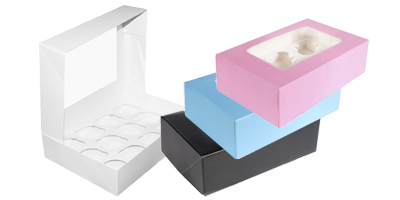 Everyone loves cupcakes and today they are one of the most popular cakes made by home bakers. They are becoming ever increasingly popular for weddings and other celebrations as the appeal of giving an individual portion control decorated treat to make your guests feel special!
So, when they are finished, perhaps with a disc of sugarpaste topped with a decoration of your favourite Disney character or more simply with a swirl of tasty flavoured buttercream, what better way to finish them off than presenting them in a box which will both protect them whilst transporting and enhance the look of a job well done!
Our cupcake boxes come flat packed with an insert suitable for most cupcake cases there are a variety of colours and designs to choose from. Our cupcake boxes will comfortably accommodate 1, 4, 6, 12, or 24 cupcakes.
Also available are mini muffin boxes which accommodate our mini muffin cases.